We make non-standard pallets according to the requirements of the client
Koshun Pallets company offers pallets of all sizes that can be used for a number of purposes. It is even more important when you think that expectations towards pallets vary across the businesses. To add even more, some branches of industry demand solely non-standard pallets.
Our company takes all clients' needs and wishes into account and so we manufacture any custom pallets you want. Experts of Koshun Pallets company can make pallets of all sizes, configurations, and with different quantity of upper and lower boards and blocks.
Our professionals suggest individual solutions for pallets transportation, as well. We ensure shipping pallets all over Ukraine and Europe.
Custom pallets help one to reduce expenses with no harm to quality. Our designer always listens to the customer's suggestions and then offers optimal solution in each given case. After the sketch is approved by the customer, the design gets implemented into pallets production.
We also keep in mind all factors that can influence further pallet exploitation. Our experts select the type of wood depending on its hardness to ensure its maximum load capacity.
For more information, contact our manager and we will answer all your questions with pleasure. You can also fill in our contact form and we will contact you as soon as possible.
Leave a request and you will receive a price
Contact me through messenger comfortable for you:
Are you planning to export your goods?

Do you need a certified ISO and ISMTP-15 compliant container?

Do you need to service your pallet park?
We clarify your need and nuances.
We do the calculation of production cost
Calculate delivery cost
If necessary, we provide a sample
Pallet Classification by Quality
You need to know this so that no one will cheat you by selling you poor quality pallets (new second-class pallets are cheating)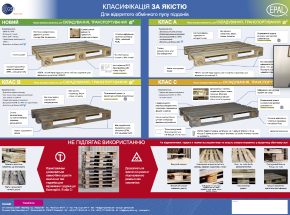 Download the PDF file to get to know us better